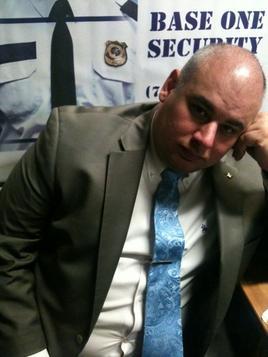 Meet the Principal
Nestor J. Anavitate, Founder of Base One Security Patrol, has enjoyed an impressive and distinguished career in the field of security services and law enforcement. Mr. Anavitate showed both an interest and propensity for law enforcement from an early age when in 1989 he joined the NYPD Auxiliary Police Department. He began his professional career in 1991 as a Security Guard with United Buildings Services Industries. Mr. Anavitate was subsequently promoted to Security Captain, where his duties included managing staff schedules, payroll, and performance.

In 1997, Mr. Anavitate left United Building Services and was appointed to the position of Peace Officer with the New York City Department of Homeless Services. (DHS) In this role, Mr. Anavitate maintained law and order and justice within the confinements of several NYC shelters. Mr. Anavitate's responsibilities also included enforcing all local and state laws, responding to any and all emergencies and making arrests where necessary.
When Mr. Anavitate left DHS in 1999, he held a variety of security positions across several industries. In 2001, Mr. Anavitate accepted the position of Security Supervisor with American Commercial Security Services. In this role, Mr. Anavitate provided corporate security services for the Trump Organization by managing general building conditions, verifying access of external visitation, and reporting routine and non-routine activities. In 2003, Mr. Anavitate was promoted to Deputy Fire Safety Director at 26 Federal Plaza. His responsibilities included conducting building evacuation announcements, checking the status of the Fire Command Station and assisting the Fire Safety Director on monthly routine building condition checks. 
Mr. Anavitate  holds an impressive list of state and city credentials including NYS Peace Officer Certification, and NYS and NYC Fireguard Certification. Mr. Anavitate's professional achievements include recognition by the NYC Council for exemplary community service, as well as similar nods from Channel 11 and The White House.